Lotus iMeta
iMeta is a very energy efficient, feature enriched laser marking and engraving system that is designed for integration to production lines and other forms of part handling device. Available as a compact or freestanding version iMeta is most commonly used for marking applications where the product and mark size/position/effect remain constant and only the marking data changes.
The iMeta is a Class 4 Fiber laser marking solution designed for industrial processes where space is often very limited.  Such installations are typically dedicated to a single or very small number of specific marking tasks where it is common to integrate multiple marking systems within a single production line.
STANDARD FEATURES
High performance galvo marking/engraving laser
Compact floor-standing control unit
Class 4 for ease of integration
Industry leading laser sources (IPG and Synrad)
High speed digital beam deflection unit
Positioning diode with Lightmark function
Variety of lens options
Auto switching exhaust control 
Feature enriched software
Start button or foot switch
2-year warranty
Designed and assembled in UK – Certified CE
Flexibility
The conveyor device adds to the flexibility of the system.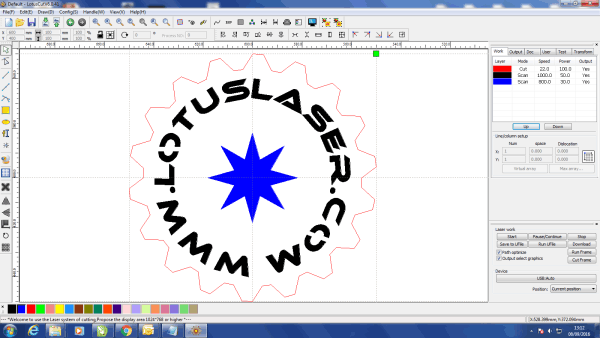 Software Package
The intuitive software allows you to import your own artwork in a range of formats.
Efficient Marking
Items such as security seals can be marked in bulk
532nm (green) IPG GLP Fiber laser 10w, 30w, 50w
1064nm nLight short-pulse Q-switched fiber laser 5.5w
1064nm IPG YLPM variable pulse (4-200ns) Fiber laser 20, 30, 50, 100 watts
1064nm SPI EP-Z/RM-Z MOPA laser 20, 30, 50, 70, 100 watts
1064nm IPG YLP MOPA Fiber laser 20w, 30w, 50w, 100w
10.6µm Synrad Co2 laser 30w, 35w, 45w, 75w, 100w
High performance galvo marking/engraving laser
Compact floor-standing control unit
Class 4 for ease of integration
Industry leading laser sources including IPG and Synrad
High speed digital beam deflection unit
Positioning diode with Lightmark function
Variety of lens options (70mm, 110mm, 180mm, 220mm, 300mm)
Auto switching exhaust control (exhaust not included)
Feature enriched software
Start button or foot switch
2-year warranty
Designed and assembled in UK – Certified CE
Software programmable Z-axis
Interchangeable lenses
Rotary device small
Rotary device large
Tracked conveyor feed MK1 (no jig holders)
Tracked conveyor feed MK2 (with jig holders)
Base unit/stand
Fume extraction unit
Pre-configured PC
Laser Class
4
Emergency Stop
Standard
Keyswitch Power on/off
Standard
Keyswitch maintenance (Class 4)
Standard
Connection external intelocks
Standard
Integrated safety shutter
Standard
CE & RoHS
Compliant
FDA
Approved 1310032-000
Laser Wattage / Laser Source

532nm (green) IPG GLP Fiber laser 10w, 30w, 50w
1064nm nLight short-pulse Q-switched fiber laser 5.5w
1064nm IPG YLPM variable pulse (4-200ns) Fiber laser 20w
1064nm IPG YLP MOPA Fiber laser 20w, 30w, 50w, 100w
10.6µm Synrad Co2 laser 30w, 35w, 45w, 75w, 100w

Size (WxDxH)
W = 430 mm

D = 575 mm

H = 340 mm (free standing 640mm)

Weight
30kg
532nm (green) IPG GLP Fiber laser 10w, 30w, 50w
1064nm nLight short-pulse Q-switched fiber laser 5.5w
1064nm IPG YLPM variable pulse (4-200ns) Fiber laser 20, 30, 50, 100 watts
1064nm SPI EP-Z/RM-Z MOPA laser 20, 30, 50, 70, 100 watts
1064nm IPG YLP MOPA Fiber laser 20w, 30w, 50w, 100w
10.6µm Synrad Co2 laser 30w, 35w, 45w, 75w, 100w
High performance galvo marking/engraving laser
Compact floor-standing control unit
Class 4 for ease of integration
Industry leading laser sources including IPG and Synrad
High speed digital beam deflection unit
Positioning diode with Lightmark function
Variety of lens options (70mm, 110mm, 180mm, 220mm, 300mm)
Auto switching exhaust control (exhaust not included)
Feature enriched software
Start button or foot switch
2-year warranty
Designed and assembled in UK – Certified CE
Software programmable Z-axis
Interchangeable lenses
Rotary device small
Rotary device large
Tracked conveyor feed MK1 (no jig holders)
Tracked conveyor feed MK2 (with jig holders)
Base unit/stand
Fume extraction unit
Pre-configured PC